4 Ways to Hide Your Phone Display From Others Peeking At It
Whenever I use my smartphone in public, I feel like someone is snooping on my phone's display. This makes me very anxious while typing in my passwords, reading confidential text, or watching NSFW stuff. If this happens to you, too, here are some tricks to hide your display from others peeking at it while using your phone in public. All of these tricks are tried and tested, but the results may vary for different tricks.
How to Prevent People From Peeking at Your Phone's Display in Public?
There are various methods to do the same, but the most effective is the screen protectors built specially to guard your privacy in public. But those screen protectors have their drawbacks, so you can use the screen filter apps available to add a digital filter to the screen. Let's check out all the methods you can use to hide the display from others while using your phone in public, including the pros and cons of using the method that suits you.
Method 1 – Use Privacy Tempered Glass
The smartphone accessories market is flooded with screen protectors with privacy protection features. This film of the filter is added to the screen protector to restrict light from steeper angles. This ensures that the phone screen appears dull or dark to anyone who is viewing the screen from an extreme angle. But before purchasing one for your phone, here are some advantages and disadvantages you should know.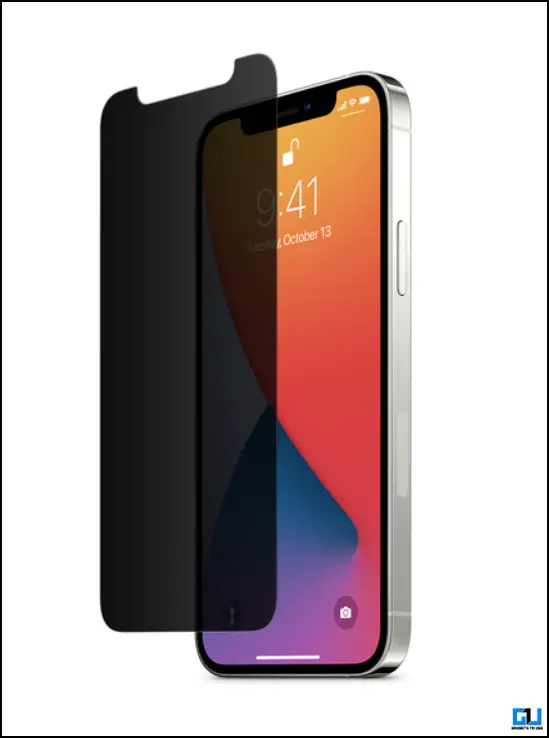 Pros
Protect your privacy by keeping others snoop on your phone's display.
It protects the display from scratches and smudges.
A few screen protectors come with a matte finish, which looks better than a glossy one.
Cons
Overall, display brightness is affected because of the privacy filter.
It may also affect the optical fingerprint sensor accuracy.
If these drawbacks of the privacy screen protector don't bother you much, then you can opt for this method. If not, we have a couple of methods to get a similar effect without spending money.
Method 2 – Use the Extra Dim Mode on Your Android Phone
Android smartphones running Android version 12 or newer have this feature called Extra Dim. This feature reduces the brightness of the smartphone screen to an extremely low level, making it easier to use during the night. You can use this feature to dim the screen, making it difficult to see the content from an angle.
1. Open the Quick Settings panel.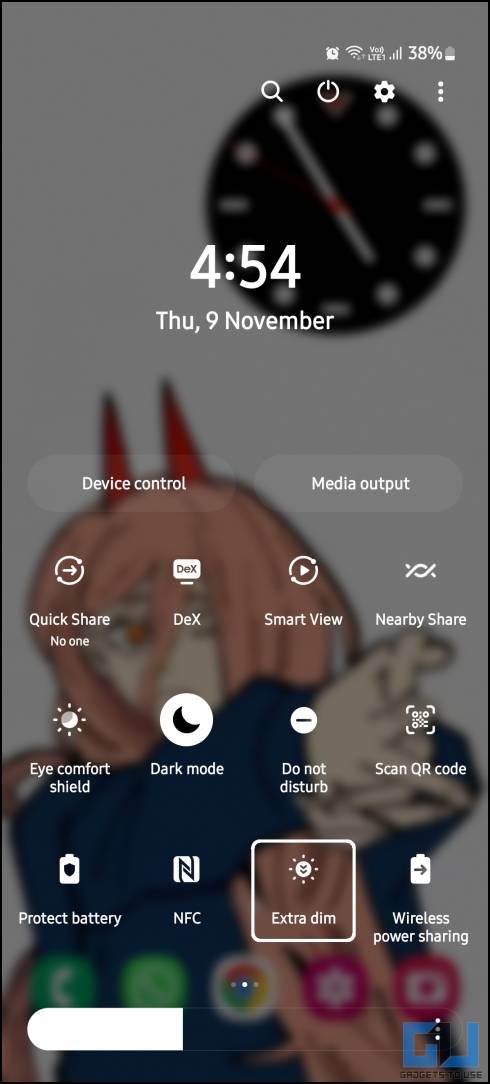 2. Tap the Extra dim toggle to turn it on.
3. Hold down the toggle to open the additional settings.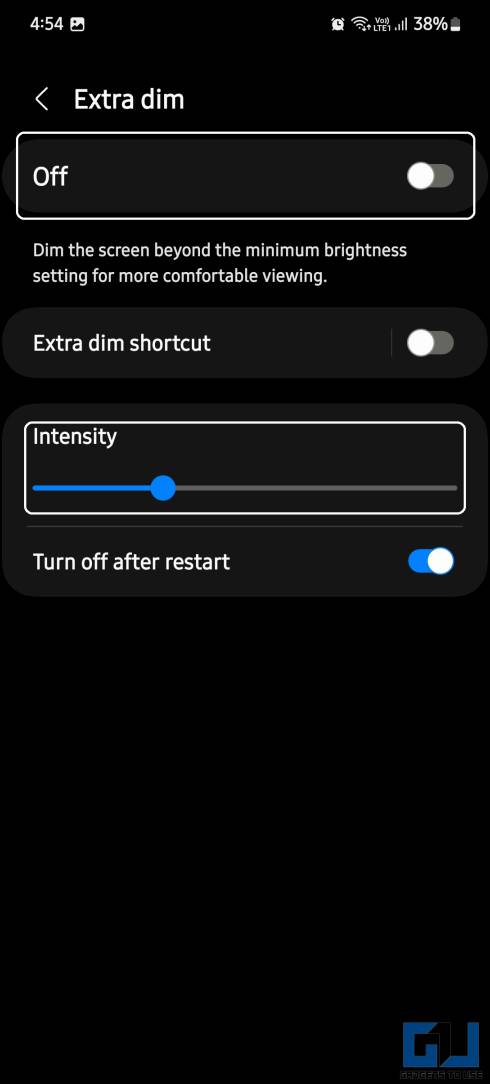 4. Here, you can change the filter's intensity. I recommend you slide it to 70 to 80 percent for best results.
You can easily disable the Extra dim mode from the quick settings once you are done with it. Check out the next method if your phone does not have this feature.
Method 3 – Peek Proof Feature on Itel and Tecno Smartphones
Itel and Tecno smartphones shares similar OS with almost similar type of features. Peek Proof is one of the useful features that will help you keep your display peek-proof in public places. Follow these steps to set up this feature on your Itel or Tecno smartphones.
1. Go to Settings > Special Function > Peek Proof.
2. Tap the toggle to turn this feature on.
3. Once enabled, you can adjust the small window using the provided handles to reveal only a specific screen part.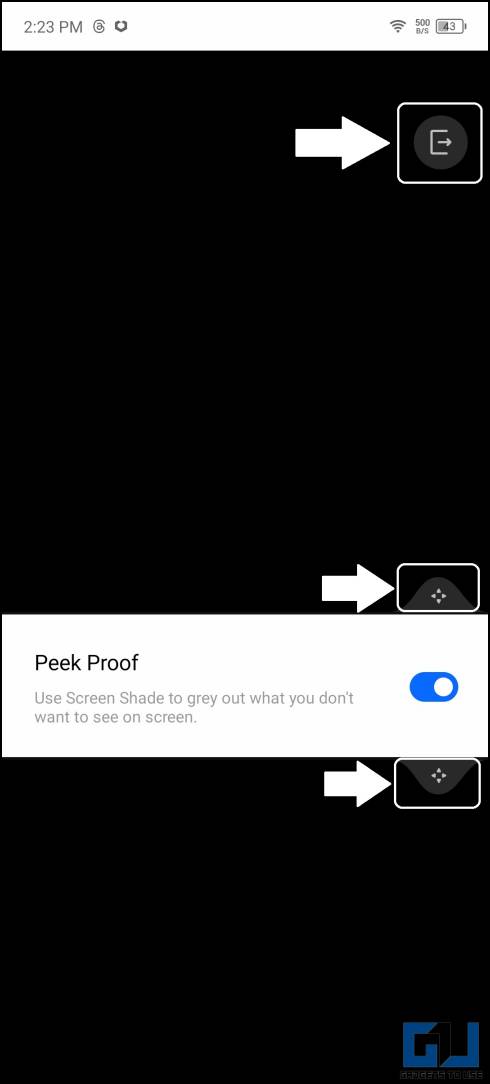 4. Tap the floating exit button to turn this feature off.
If you own a smartphone other than Itel or Tecno, you can use a third-party app that will have a similar effect on your Android smartphone.
Method 4 – Screen Guard Privacy Screen App
Screen Guard Privacy Screen is a free screen filter app that you can use to add a filter to the entire screen. This filter works just like the extra dim mode but with extra features. You can easily set up this app on your Android smartphone as follows:
1. Install the Screen Guard Privacy Screen app from the Google Play Store.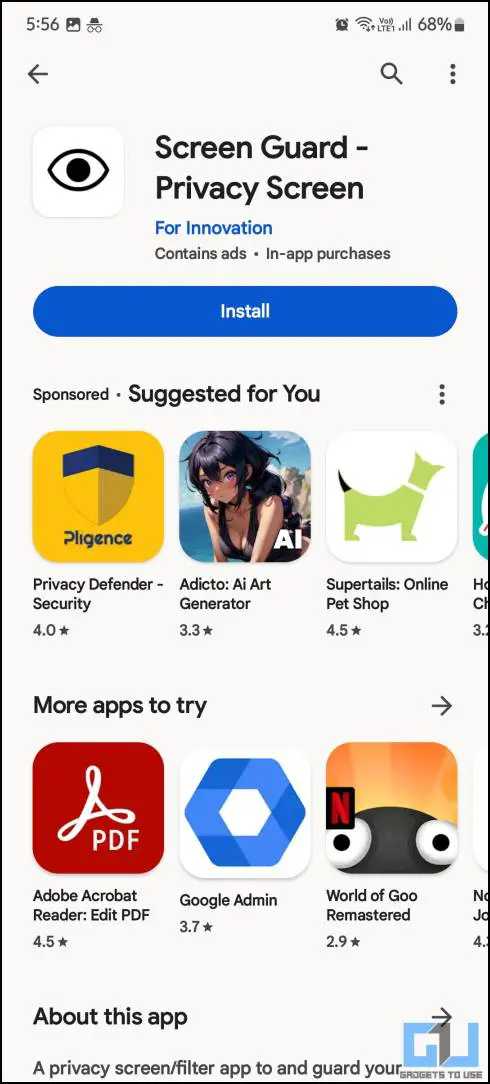 2. Provide the required two permissions to run this app.
3. Now, you can use the toggle to turn it on or off.
You can customize the filter color, intensity, pattern, etc., per your preference. This may not be the best option while watching videos or any media on your phone, but it works well for text.
FAQs
Q. How to Hide My Smartphone Display From Others When Using It in Public Places?
There are various methods to ensure that no one can see the content on your smartphone display when using the smartphone in public places. You can use a screen protector with a privacy filter or a software-based smartphone filter. Both methods are explained above.
Q. Do Privacy Screen Guards Affect the Display Visibility and Picture Quality?
Yes, it does to an extent, but not too much; it also affects the total brightness of the display. If you look directly at the screen and not from the angle, you won't feel any difference in brightness or quality.
Q. Does the Privacy Screen Drain the Battery?
Since the screen protector affects the brightness slightly, you may need to increase the brightness. This will drain the battery slightly faster than usual, but the drain won't be drastic.
Wrapping Up
This is how you can enhance your privacy and hide the display from others while using your phone in public places like Metro. Of these possible methods mentioned above, I recommend using the screen protector. While it has disadvantages, it does the job perfectly, and these screen protectors are inexpensive these days. Stay tuned to more such reads, and check other privacy-centric tips below.
You might be interested in the following:
You can also follow us for instant tech news at Google News or for tips and tricks, smartphones & gadgets reviews, join GadgetsToUse Telegram Group or for the latest review videos subscribe GadgetsToUse Youtube Channel.